<! #include virtual="/ForceSSL.inc" >
New Products and Featured Items
Featured Products
Meeting the needs of culturally and linguistically diverse students is one of the most difficult challenges faced by speech-language pathologists and special education professionals. Two recent publications are especially valuable in meeting the needs of these students. By using the strategies described by Dr. Roseberry-McKibbin in conjunction with the practical guidelines and reproducible assessment tools developed by Mattes and Saldaña-Illingworth, you will be able to provide improved services for bilingual/multicultural student populations.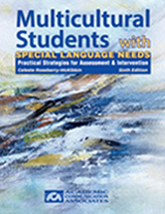 Multicultural Students with Special Language Needs: Practical Strategies for Assessment and Intervention- New 2022 edition
Celeste Roseberry-McKibbin
In this book, Dr. Roseberry-McKibbin provides strategies that can be used to distinguish "differences" from "disorders" and to plan appropriate programs of intervention. Information about diverse cultural groups is presented in an easy-to-understand format. Professionals serving clients who speak Spanish, Japanese, Vietnamese, Russian, Arabic, Tagalog, and other language need the information in this comprehensive book. This book can be used as a course text or as a practical intervention guide. The new fifth edition is available now.
More information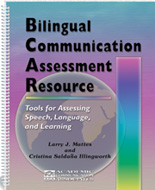 Bilingual Communication Assessment Resource
Larry J. Mattes and Cristina Saldaña-Illingworth
This book includes a comprehensive collection of reproducible tools for assessment and program planning. This book will help you implement many of the strategies recommended by Dr. Celeste Roseberry-McKibbin in her book. The book includes guidelines, checklists for assessing specific skills, parent interview tools, and MORE. Resources designed specifically for Spanish speakers are included. Tools are included for articulation, language, voice, and fluency. This resource can be used with children or adults.
More information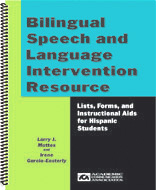 Bilingual Speech and Language Intervention Resource
Larry J. Mattes and Irene Garcia-Easterly
Here is a comprehensive collection of practical resources that you can use on a daily basis with students from Hispanic backgrounds. The book includes guidelines, word lists, informational articles, details about structural differences between English and Spanish, lists of idiomatic expressions, Spanish synonyms/antonyms, information about words that vary in different dialects, and much, much more.
More information
Software and books for creating communication boards
Find out about easy-to-use software with over 10,000 pictures! Save money NOW!
Use music to develop language skills - Rock, rap, and other musical styles (Listen to sample songs!)
Music motivates children to learn! Make learning fun. Click on "More information" to hear segments from some of the songs contained within these programs.
New Products
Click below to view our newest products. We are always creating new products.
All of our proprietary products are manufactured in the United States of America.
Special Offers

We are currently offering a variety of short-term specials. Check them out!