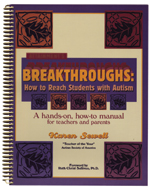 Breakthroughs: How to Reach Students with Autism
(#96659-IN)
Karen Sewell
This hands-on program for teaching students with autism will help you develop effective strategies for teaching children with autistic behaviors.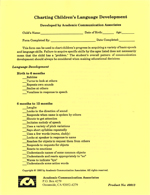 Charting Children's Language Development: Information for Parents and Teachers
(#49913-IN)
Speech and language skills are listed by developmental age from birth to age five on this handy easy-to-use form.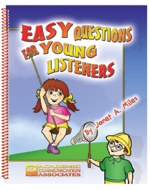 Easy Questions for Young Listeners
(#40084-IN)
Janet Miles
Ages 2.5 through 5. Each lesson in this book includes a short story, an illustration, and questions to ask the child.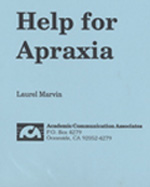 Help for Apraxia: Information for the Family
(#49912-IN)
Academic Communication Associates
This booklet provides information to families about apraxia of speech and the effect that this disorder has on communication. Information about treatment of the disorder is included.
How Children Learn to Talk Audiotape - Save $12.00 - Only $4.00 each
(#4177ZTA-IN)
This audiotape provides parents, teachers, paraprofessionals, and family members with important information about how children learn speech sounds and oral language skills. Use it at in-service programs or give it to parents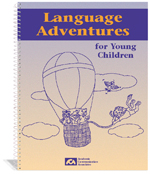 Language Adventures for Young Children
(#49911-IN)
Ages 4 through 6. Use the picture stories, games, and worksheet activities in this book to strengthen vocabulary, sentence structure, and descriptive language skills in young children.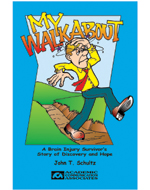 My Walkabout: A Brain Injury Survivor's Story of Discovery and Hope
(#49951-IN)
John T. Schultz
This book describes the experiences of John Schultz during his recovering from a brain injury. This is an excellent resource for speech-language pathologists and family members.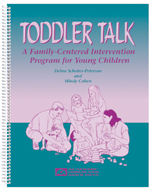 Toddler Talk: A Family-Centered Intervention Program for Young Children
(#40696-IN)
Debra Schober-Peterson and Mindy Cohen
Ages 18 months through 36 months. Use this book to train parents to implement instructional activities at home.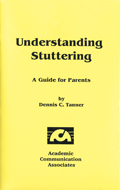 Understanding Stuttering: Information for Parents and Teachers
(#40688-IN)
Dennis Tanner
This inexpensive booklet includes answers to the questions most often asked by parents about stuttering.