Special Offers
Celebrate BETTER SPEECH AND HEARING MONTH with our special offers. You'll
find
dozens of special discounts this month - MORE THAN EVER BEFORE!
Save $223 DOLLARS NOW!
Communication Board Software Combo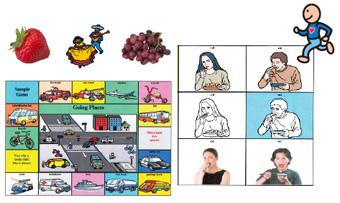 Software includes over 18,000 images (photos and illustrations) for creating communication
boards and MORE! Limited quantities have been set aside for this special offer - GOING FAST!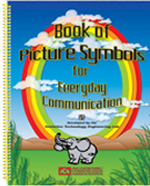 Book of Picture Symbols for Everyday Communication
Save $20.00
Construct communication boards using a comprehensive collection of over 3,000 symbols from the Library of International Picture Symbols (LIPS). The LIPS includes symbols for food, articles of clothing, tools, activities, emotions, holidays, and other items relevant to the experiences of individuals from diverse cultural backgrounds. The book will be helpful in developing communication displays and instructional activities for individuals with communication disorders, augmentative communication needs, and second language learners.
OVER 300 pages - ONLY $39.00 Now!
View product description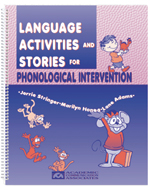 Language Activities and Stories for Phonological Intervention
Save $15.00
Remediate phonological processes with the easy-to-use picture stories in this book. This book makes it possible to remediate phonological processes and build language skills at the same time. The fun stories provide functional practice in the use of new speech patterns.
ONLY $19.00 Now!
View product description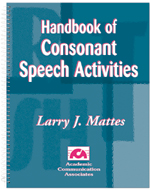 Handbook of Consonant Speech Activities
Save $16.00
Here is a collection of reproducible worksheets that can be used by speech-language pathologists, parents, and teachers. Worksheets are included for remediating 24 consonants, clusters containing /r/, /s/, and /l/, and basic phonological processes. The book also includes short stories, picture worksheets, tongue twisters, and thinking activities
ONLY $19.00 Now!
View product description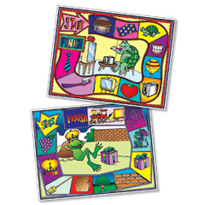 Speech Game Gallery
Save $22.00
Ages 4 through 11. Here is a collection of games and activities that can be used to strengthen production of 12 commonly misarticulated sounds or to remediate phonological processes. The kit includes an activity manual with reproducible worksheets, 12 full-color game boards, task cards, a spinner, and playing pieces.
ONLY $10.00 Now!
View product description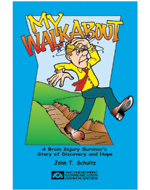 My WalkAbout: A Brain-Injury Survivor's Story of Discovery and Hope
Save $8.00
The life of John Schultz changed suddenly when an artery broke in his brain. This inspirational book tells his story and is MUST READING for brain-injury survivors and family members. It can also be used to increase student's awareness of the challenges caused by brain injury. His story motivates clients with brain injury to work hard to overcome their difficulties.
ONLY $6.95 Now!
View product description
Save $100.00 when you order the complete Easy-to Read Classic Novel set with 45 easy-to read versions of popular novels PLUS reproducible worksheets. Great for students with reading difficulties